Packaging Improvements production and manufacturing facility enables us to supply large UK stockists and distributors within the food packaging consumables industry as well as smaller end users.
Warehouse Facility:
Our large warehouse facility enables us to hold large stocks of converted product and raw material for production. The warehouse operates to the BRC Packaging Products Standards ensuring all quality requirements are met and maintained.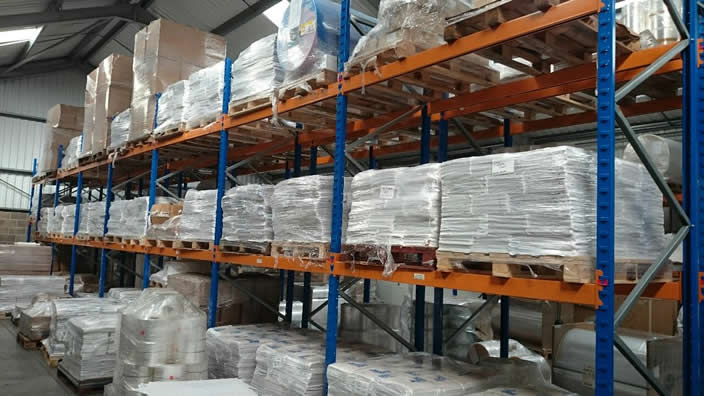 BRC Warehouse Facility
Production facility:


Guillotines
We have a number of guillotines on site enabling us to convert film and paper with a quick turnaround and accurate precision. In addition to producing stock products these guillotines also enable us to produce bespoke sizes as well as converting customer's own film.
Drummers
Our selection of drumming machines on site enable us to convert film from reel format to lay flat sheets at various widths for additional conversion.
Punch Machines
Packaging Improvements have a number of punching machines on site to produce film discs. We have a large selection of disc punch options (please see products section for confirmation of sizes, shapes and colours available).
Shredders & Balers
Our on-site shredders and balers enable us to convert film stock into hamper shred. 
Handcop Machine
Packaging Improvements handcop machine enables us to produce lampshade wrap.
Slitting Machines
Packaging Improvements has a number of onsite slitting machines for converting master reels of film to end user widths and dimensions.
Converting Service:
In addition to producing and converting our own stock products, Packaging Improvements also offer the facility to convert customer's own stock and packaging substrates (including printed film, greaseproof paper, cellophane, polyester etc.) 
Please contact us to discuss any aspect of converting film