Polypropylene Film Reels:
Packaging Improvements can produce and supply clear polypropylene film reels for flow wrap applications. The film is 2 side heat sealable, 1 side treated for print (corona treated). The film is direct food contact approved. Film can be supplied on 76mm (3") cores, with reel lengths to suit the customer's requirements. 240mm is a standard diameter for these reels. The film can be supplied with blue bag over wrapping in line with food safety guidelines to prevent contamination.
Polypropylene film reels can be supplied in the following thicknesses:
15mu / 20mu / 25mu / 30mu / 35mu / 40mu and 50mu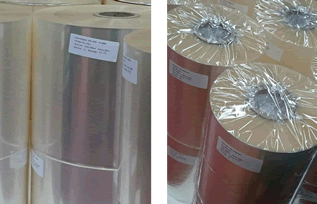 Polypropylene Flow Wrap Film
Reel widths are available from 50mm up to 1500mm
In addition to standard clear film, Packaging Improvements can also supply the following:
Clear Perforated BOPP in 20mu (P160 perforation pattern)
Solid White / Matt / Metallised / Pearlised / Anti-Fog / Barrier coated (Acrylic and PVdC)
Film is also available in centre folded formats.